May 16, 2022
In April, over 300 attendees joined the MOSA working session conducted at the Army Aviation Association of America (Quad-A) Mission Solution Summit.
The panel was facilitated by Mr. Jeffery Langhout, Director DEVCOM Aviation and Missile Center. The panel included experts and innovators of MOSA, MBSE, and agile technologies from both government and industry, including Mr. Matthew Sipe, Director, MOSA Transformation Office; Mr. Dave Schreck, Collins Aerospace, VP and GM, Military Avionics & Helicopters; Mr. Ike Song, Mercury Systems, Inc., VP and GM of Strategy and Growth; and Mr. Stephen Simi, Tucson Embedded Systems, Inc., VP and Division Head for Military Aerospace Solutions.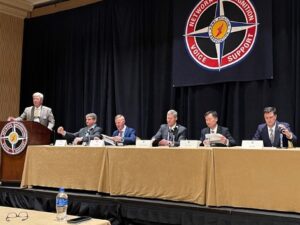 Quad-A MOSA Panel of Experts, 2022; Kicked off by BG Tim Crosby (Ret.), President Quad-A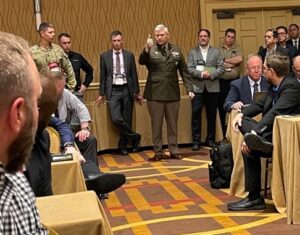 BG Rob Berrie, U.S. Army PEO Aviation, attends MOSA Panel of Experts at Quad-A, 2022
The Panel helped describe what is MOSA, present the Government's MOSA Objectives and Industry's Approach to MOSA, sharing Thoughts, Visions, and Implementations [MOSA Presentation]. A lively Q&A session bumped into the session's time constraint, followed with face-to-face exchanges of attendees and panelists.
With open standards a key ingredient of MOSA, expect that FACE™, SOSA, and HOST will be center-stage of future MOSA briefings as the US Government and Industry collectively shape the future of modular open reusable systems based on open systems standards and approaches.
Contributed by Stephen M. Simi, TES-i and FACE BWG Chair, 2022